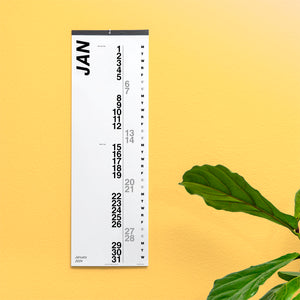 Vertical Calendar
Sale price Price $36.99 Regular price
---
2024 SHIPPING
The Vertical is a large wall calendar that displays time in a comfortable, linear fashion. To us, it's how calendars should be.
Get Ready for 2024
12 bound sheets (January to December)
8" wide by 24" tall
Perforated for Easy Tear-off
Hangup: Drilled hole 

Hang it up
A drilled hole allows for easy hang-up and simple month-to-month transition. Display months individually or as a group with our hangup sets - either way, the Vertical will be a fine addition to your home, office, or both.
Perforated for Easy Tear-Off
More about the Vertical
Want a deal? Get a Package, they're cheaper!
SKU: M002v24